Additional screening added!
Vancity Theatre – 1181 Seymour St. Vancouver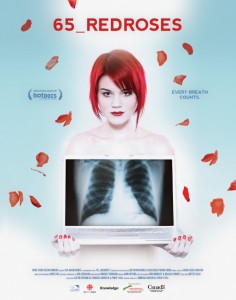 Normally a colourful, positive, vivacious young woman, Eva is only a ghost of herself when directors Nimisha Mukerji and Philip Lyall begin documenting her life for this heartrending film. She is suffering through the advanced stages of Cystic Fibrosis. She feels as if she is drowning on the inside – lungs so full of mucous each breath is nearly impossible. Eva's lungs are functioning at minimal capacity as her family and friends helplessly watch her deteriorate. Physically beaten down by her disease, Eva needs a new set of lungs to save her life. She waits – months – for news of a donor.
Quarantined from fellow CF patients, who can spread potentially fatal superbugs to each other, Eva forms a supportive community online. She gives and receives support and advice, becoming close with two young women who have endured the medical and emotional consequences of living with CF. Facing an uncertain future, Eva shares her worst fears and greatest hopes pre-surgery. Mukerji and Lyall follow Eva from home to the hospital and back. Inspiring and wise beyond her years, Eva puts a hopeful face to organ donation, and unwittingly reminds us of the preciousness of life.