Many alumni of the Television & Video Production Program work on the annual Variety Show of Hearts Telethon, and we usually arrange a tour for our students so they can see what goes into the "behind the scenes" production of the event.
Visiting the set is a great chance for our first-year students to begin making industry connections with the production staff (many of whom work at Global Television, ProShow, and many local industry freelancers)…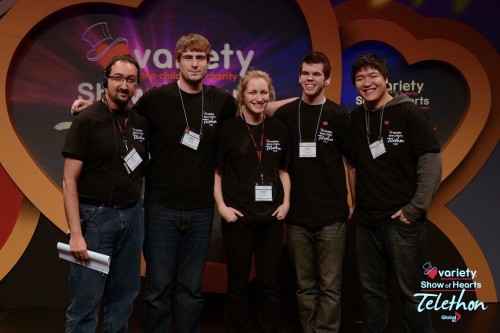 This group of first-year TV students (posing with one of our TV instructors, who also works the event yearly), started off by touring the production Saturday morning, and subsequently volunteered, or were hired – doing everything from PA'ing and working with the producers, to studio camera for the live show…
Jinder Chalmers, creator of "Combat Hospital" (as well as BCIT Alumni & writing instructor) spent some time with our students this afternoon, answering questions and giving advice on getting a major international TV series off the ground, and the production process necessary to make it successful.
Ms. Chalmers offered an insightful look at the realities of multi-million dollar productions and shared her experiences on the series to an audience students from the Broadcast Department.  Information on finding funding sources as well as making the industry connections necessary for success were great discussion topics!