Our first year Television students are now in the midst of our initial multi-camera training production, "Studio 1 Live".  We use a talk-show format to introduce students to a basic live production, where they have the opportunity to experience the job functions necessary to produce the show, including directing, camera, audio, switching (technical directing), lighting, and more.
Some of the pictures were shot on Halloween, which may explain some of the outfits…
BCIT's 2012 Open House is on now!
Join us Friday April 13th and Saturday April 14th – 9am to 4pm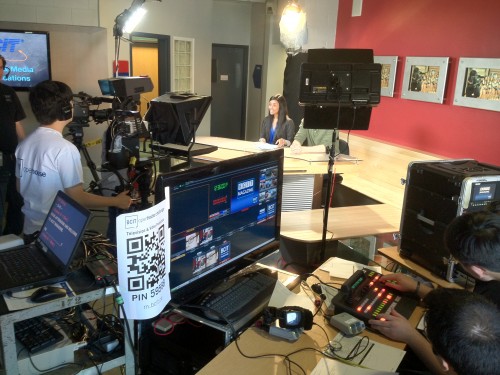 Drop by the Broadcast & Media Communications Department in building SE10 and see all of our programs in action:
Radio
Television & Video Production
Broadcast & Online Journalism
We have many live demos and activities where you can try your own hand at broadcasting!